History of Sunless

The airbrush tanning industry was conceived on an alluring premise of vanity. Having tannned skin immediately makes you feel pretty and look thin. Movie stars, models and television actors all have that healthy glow that we want.

Historically a suntan was considered a fashion "no no", but in the 1920′s a sun-kissed body became a huge phenomenon. It is rumored that Coco Chanel is the woman behind this trend. After vacationing in the south of France she came back with a tan. This sent women running for the beach. It had been said by a close friend of her's Prince Jean -Louis de Faucingny- lucigne "I think she may have invented sunbathing".

Oddly enough, DHA (Dihydroxyacetone) was also identified in the 1920′s by German scientists. At the time this was not being tested as a skin colorant but was discovered that when spilled on the skin it turned brown.

In the 1950′s Eva Wittgenstein, from the University of Cincinnati, conducted studies on Dihydroxyacetone, which was used in a drug for Glycogen Storage Disease. Again when spilled on the skin, it turned the skin brown. This intrigued her enough to continue studying DHA and discovered that the browning effect was a consistent result.

In 1960 Coppertone introduced the first ever sunless tanning lotion. "Quick Tan" or "QT" was sold as a sunless tanner that developed overnight.

In 1973 the Food and Drug Administration (FDA) added DHA to the list of approved cosmetic ingredients.

The 1980′s proved to be a better decade for the enhancement of sunless tanning products. Changes in formulas and manufacturing processes produced more natural looking results with less streaking and better fading.

Today spray tanning is hotter than ever!

With concerns about healthy skin, premature aging, cancer and the need for instant gratification, One can find self-tanners in a variety of sprays, lotions, gels and mousses at their local drugstore.

We use Professional quality products.We also have gluten free tanning products.
That can deliver great results on all skin tones.

We do not use booths because we prefer personalized airbrush and hand applications.




Medium/light Or Dark Tan Applied With
An Airbush
_______________________________________________


We have a Sunless Tan Membership Program
and a rewards card




Intense or natural looking Tans and you control the tanning level!

WHAT TO EXPECT DURING YOUR AIRBRUSH SESSION

1. You will be escorted into a private area equipped with ventilation and drying fans for your session.

2. A technician will discuss your sunless tanning needs and help you choose the perfect shade that is right for your skin tone and desired result.

3. You will remove your clothing and jewelry.

WOMEN: If you choose to wear cotton undergarments the solution will not penetrate through the clothing. Therefore you will not receive a tan in the covered areas.

MEN: It is required that cotton briefs, shorts or a bathing suit be worn for the session.

4. If your finger and toe nails are not painted our technician will provide a lotion to cover your nail beds.

5. Cover your hair with the supplied disposable hair cap

6. A technician will then apply your chosen solution to your skin, covering your entire body. They will guide you in several positions to ensure that all exposed areas are covered evenly.

NOTE: APPLYING EXCESSIVE SOLUTION DURING ONE SESSION WILL NOT MAKE YOU DARKER. YOUR SKIN MAY APPEAR DARKER DIRECTLY AFTER YOUR SESSION BUT WILL WASH OFF DURING YOUR FIRST SHOWER.

If a darker tan is desired a second application can be applied 24 hours after the first session



here are many reasons to having a spray tan
Full Body or Legs Only

Bridal Consultation & Preview Sunless Self-Tan

tan Maintenance Products

Pageants, Semi- formal Fashion Shows & Head Shot Portraits

Halloween

Corporate Events

Fitness events



Professional Self-Tanning products

How to Fake a Summer Tan

Thre is no doubt having a tan makes you feel thinner, sexier and healthier. However, these days baking in the sun is becoming increasingly unpopular as more women realize the sun's UV rays age skin faster than anything (not to mention increase your chance of developing the deadliest form of skin cancer, melanoma).

If you're ready to skip laying out but don't want to give up glowing skin, self-tanners are a great bet. Self-tanners can darken skin for up to a week thanks to dihydroxyacetone, or DHA.

If you want a flawless, professional application you can get one of many options: Full body exfoliation and professional application of self-tanner, airbrush bronzing (where an aesthetician sprays a fine mist of solution.

Tip #2: Aftercae ;How to use self-tanner on your face

This is a four-step process. Pull hair up in a ponytail before you start so you don't miss any parts.

First, prep skin by gently cleansing and exfoliating. We recommend Kona Hawaiian soap. Skip moisturizer, which may interfere with the tanner.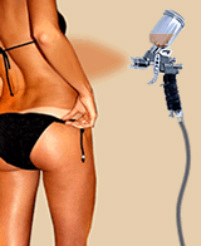 sESSIONS BEGIN WITH THE mALAKITE PREP
and its incuded in price
The Malakite Prep will be sprayed on a warm wet towel and then the client rubs the entire body with the sprayed towel. This step preps the body to receive the spray tan with flawless results.

We do stroNgly promote that a maintenANCE PRODUCT IS USED TO CARE FOR YOUR SUNLESS TAN.
wE CARRY A VARIETY OF SUNLESS AND MOISTURIZING PRODUCTS.